I understand that being in front of the camera can sometimes feel intimidating or uncomfortable. I believe that every client deserves to feel confident, relaxed, and at ease during their photoshoot experience. This blog post is dedicated to you, our valued clients in Sarasota, providing helpful tips for your family photo session and insights to help you feel comfortable in front of the camera.
1. Establishing a Connection:
I genuinely care about you and your family. From the moment you contact me, I aim to build a connection that allows you to feel comfortable and at ease. By getting to know each other, we can create a relaxed environment where you can be yourself, resulting in more authentic and heartfelt photographs.
2. Guiding You Every Step of the Way:
You don't have to worry about knowing how to pose or what to do during the photoshoot—I'm here to guide you! I will provide clear instructions and gentle direction to help you look your best. Ensuring you'll feel confident and comfortable with each pose, allowing your true personality and emotions to shine through in the photographs.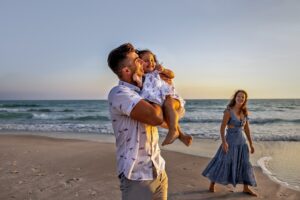 3. Embracing Candid Moments:
While posed portraits are beautiful, some of the most cherished photographs capture candid and spontaneous moments. I encourage you to relax, have fun, and be yourselves during the shoot. Engage in natural interactions, share laughter, and enjoy genuine moments together as a family. These authentic instances will bring out the emotions and connections that make your family special, creating photographs that reflect your true selves.
4. Dressing for Comfort and Style:
Choosing the right outfits plays a significant role in your comfort during the photoshoot. I recommend selecting clothing that not only looks great but also allows you to move freely and comfortably. Coordinate colors and styles that complement each other and the chosen location. When you feel comfortable in your attire, it will positively impact your confidence, allowing you to fully enjoy the experience. Click
here
for some helpful wardrobe tips.
At Ember and Earth Photography my top priority is to make you feel comfortable and confident in front of the camera. By following these tips and allowing me to guide you, you can relax and enjoy the experience of creating beautiful, timeless photographs with your loved ones. Embrace the moment, and let me capture the magic of your family's love and connection!
Ready to book your Sarasota family session? Click
here
to send me a message!