As a Sarasota family photographer, I would love to share with you some key elements to consider when choosing the right outfits that will enhance the beauty of your family portraits. In this blog post, I'll guide you through some helpful tips and stylish suggestions on what to wear for Sarasota family photos. Let's dive in and ensure your family looks their best while capturing precious memories in the stunning backdrop of Sarasota.
1. Embrace the Coastal Vibes:
Sarasota's coastal charm offers a fantastic opportunity to infuse your family's outfits with a touch of beach-inspired style. Opt for light and airy fabrics, such as linen, cotton, or chambray, that reflect the relaxed coastal atmosphere. Soft pastel colors like pale blues, mint greens, or blush pinks work beautifully against the backdrop of sandy beaches and azure waters.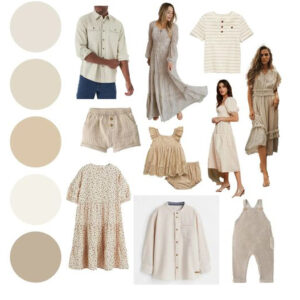 2. Coordinate, Don't Match:
Gone are the days of everyone wearing the same color or matching outfits. Instead, focus on coordinating your family's attire to create a cohesive and visually pleasing look. Choose a color palette that complements each other, incorporating shades that work well together. Consider using a mix of complementary colors and subtle patterns to add depth and interest to the overall ensemble.
3. Dress for the Location:
Take into account the location of your photoshoot when selecting your outfits. If you're capturing the beauty of the beach, think flowy maxi dresses for the ladies and lightweight button-down shirts paired with khakis or linen pants for the gentlemen. For a more urban or park setting, opt for comfortable yet stylish outfits, such as dresses, skirts, or well-fitted jeans paired with tasteful tops.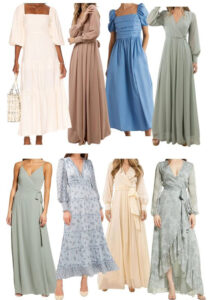 4. Add Personality and Accessories:
Allow each family member to express their individual personalities through their outfits. Incorporate accessories like statement jewelry, hats, scarves, or belts to add a touch of personal style and visual interest. Remember, the goal is to capture the essence of your family, so don't shy away from letting your true selves shine through for your Sarasota portraits.
When planning your Sarasota family photoshoot, keep in mind the coastal vibes, coordination over matching, dressing for the location, and adding personal touches through accessories. By following these tips, you'll create a harmonious and stylish visual narrative that beautifully captures your family's love and connection. I welcome you to view my
Pinterest
for more helpful tips.
With these suggestions, you're now ready to create stunning family portraits that not only represent your unique bond but also reflect the vibrant charm of Sarasota. Click
here
to book your session today!